A Brand Refresh
Posted by Hook Coffee on March 19, 2017, 1:36 p.m.
Hello one and all!
The Hook office is bustling with excitement. We recently revamped some things - quite a few things. Our web interface and branding has been redesigned.
We have more coffees for you all to try, new shiny gear is waiting to be shipped out and tampered with, and fresh brew tips and guides are being developed as we speak.
Just in case you missed out on our email which we are super excited to share with you, here is what's new!
We really can't contain ourselves, so we're writing a post about it.
Before we go on, know that all design and branding changes are meant to simplify the process in which our community goes about discovering coffee. Hook yearns to foster an environment that condones exploration and knowledge. By implementing an interface makeover, we are hoping to bring more folks into the specialty coffee fold.
Coffee shouldn't be pretentious and confusing. It should be a sea of exploration.
The Fresh Logo
Our sought to align our branding with our community minded vision.
Hook believes that connections make coffee possible. Without connections, community, and hospitality, quality coffee cannot exist. The nature of these imperative connections is what our logo conveys.
The two rings represent the connections between farmers, suppliers, and our coffee drinking community. All of these connections bond together and form an unbreakable chain. The seed to cup process traverses through this chain, and with each step in the process, quality coffee is achieved.
Connections with Farmers
Coffee farmers are the most important conduit in the seed to cup process. Without the care and knowledge that farmers use to cultivate the coffee that we drink, good coffee couldn't happen.
We operate in a direct trade model as much as possible. This means that we work closely with the farmers that provide us with coffee. This direct trade relationship ensures that farmers are financially compensated for their craft. Instead of abiding in a blanket price model for green coffee, we pay farmers what their coffee is worth.
By cherishing the lives of farmers, the lives of others, we become a part of something bigger.
Connections with Suppliers
Suppliers are the next step in the seed to cup chain. Hook works with suppliers to efficiently obtain the delectable coffee that farmers grow. Coffee must be shipped to Singapore, and it's vital that the shipping methods preserve coffee freshness. Suppliers help us do this.
Connections to you!
Once the green coffee arrives at Hook HQ, we roast it and send it out to the world. Finally, the chain ends with you getting fresh bags of coffee in the mail.
From here, we can educate on brew techniques and coffee science. As a community, we can grow and flourish!
You see, we are all a vital part in this collective coffee chain. All steps come together to form a process. This is what the coffee community is about.
Color scheme
Hook has always sworn by quality and freshness. Our brand colors now feature a splash of aqua green as another representation of this promise. We will continue to do what we do and give you the best!
Regardless of external forces or how big we grow, we will offer fresh products and services. Always.
Groovy Packaging
If you've treated yourself to a bag of Hook coffee in the past, you'll notice that we changed up our coffee bags
We did this for a couple of reasons.
Firstly, we now use a thicker kraft envelope that will further protect your coffee as it treks through the dangerous abyss of the postal realm. It's recyclable and durable - the perfect combo for an effective coffee container.
Secondly, we wanted to have some fun. Our designers went to town on the bag graphics. We think it's pretty cool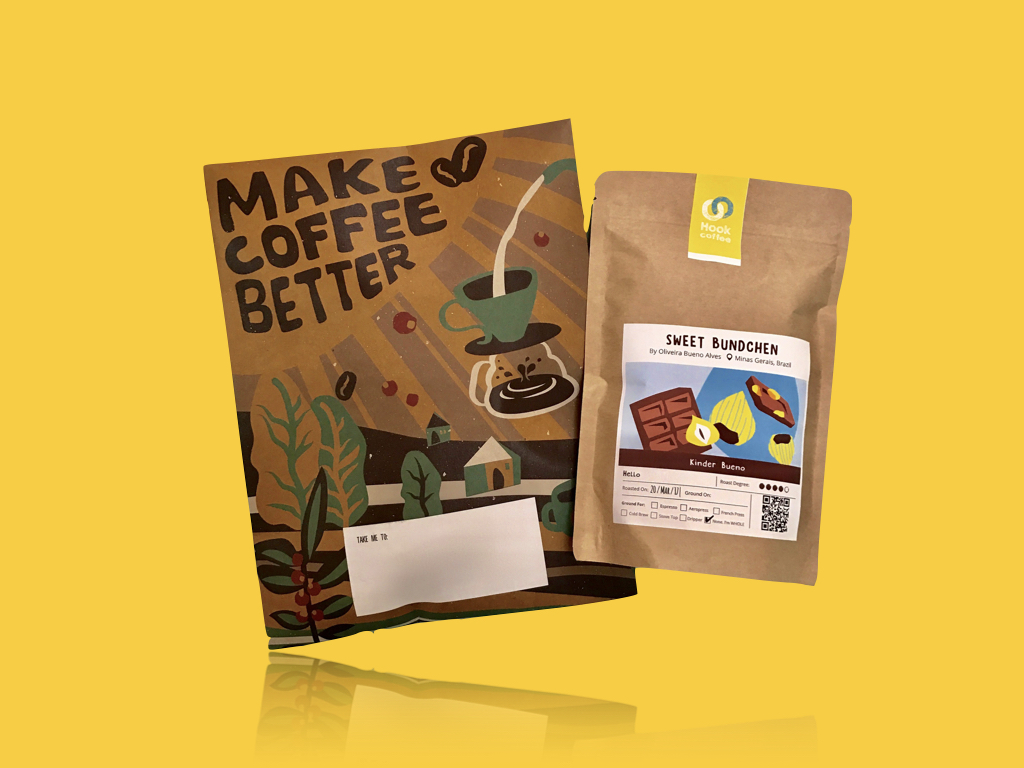 Love our new mailing envelope? All regular subscription orders will be shipped using this envelope from today onwards!
All in all, Hook will continue serving the coffee community. Our branding facelift is a promise that we will strive to be intentional and hospitable to all. We are thankful for the coffee lovers who choose to be a part of our vision.
Let's make the world better and enjoy coffee whenever we can!
Happy brewing!
The Hook Coffee Team