Happy Caffeine New Year: Your Guide to Pairing Coffee with Chinese New Year Snacks
Posted by Junior Lim on Jan. 28, 2019, 1:32 p.m.
It's about that time of the year for some of us. Yep, it's Chinese New Year, otherwise known as CNY. Some people go through the motions, keeping up with formalities and whatnot, while others adore this festive period.

It's safe to say that opinions about the festivities are divided, but the reception towards CNY snacks, at least from what I've observed, is unanimously positive. This may be attributed to my non-existent snacking habit, with me receiving the rather frequent "Huh?! Why you don't eat snacks one? It's nice leh", or something along that line every time a host offers snacks, or when friends show up at school with everybody's go-to, Pineapple Tarts (late to the party, but I've finally given these a shot. Sue me).

If it wasn't already obvious, we love all things coffee here at Hook, which is why we've decided to conduct a pairing between our coffees and some CNY snack heavyweights. For me, observing my relatives request for a cuppa while snacking during our yearly CNY gatherings was just another push factor to make this happen.

Thanks to our resident Bean Whisperer and Roaster extraordinaire, Kit, we present what we consider to be some great pairings for those of you who might be curious about what goes well with your stash of Hook Coffee!


Combo #1: Pineapple Tarts & Panama Oh Nana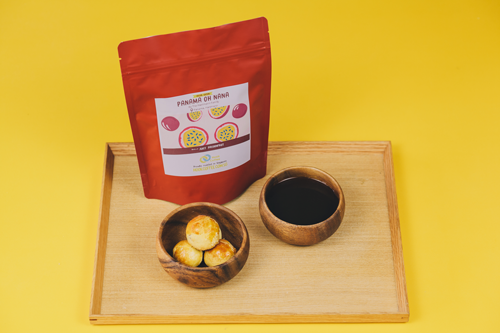 Let's kick things off with the crowd favourite! Panama Oh Nana has a heavy tropical fruit taste, almost passionfruit-like. This sort of refreshing acidity pairs well with Pineapple Tarts, because they're sweet and tart, essentially elevating flavours that are light on the palette. However, eating a bunch of Pineapple Tarts in one sitting can get pretty heavy as well, due to the buttery nature of the pastry, and that's where Panama shines – the acidity cuts through the richness, making for a balanced snacking experience.

Combo #2: Kueh Bangkit & Butterfingers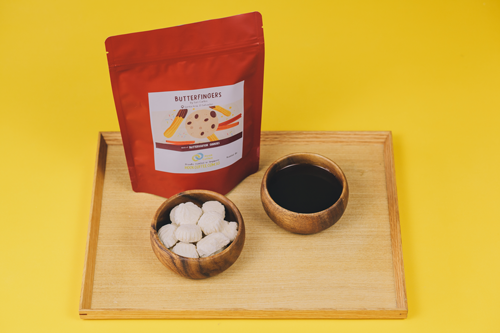 Kueh Bangkit is really sweet, but also really dry. Even though it melts in your mouth, taking in a handful of these at once will leave your mouth feeling pretty dry. Butterfingers is the perfect complement because it's got a creamy mouthfeel, making your palette feel less parched! Butterfingers is great as well, because it's not a bitter coffee – it's got a lot of caramel notes, which enhances the overall sweetness of the kueh. Relative to some other coffees, Butterfingers has got a light body, helping to cleanse the palette. Again, this is super helpful if you find that snacking on Kueh Bangkit leaves your palette dry and heavy!
Combo #3: Love Letters & Cherry Bomb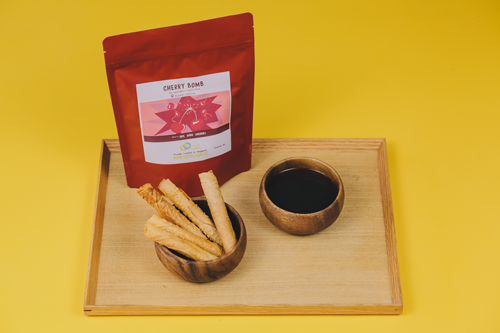 Crispy, flaky and light, Love Letters are the only thing I've actually snacked on growing up! They've got a pretty neutral flavour profile, with a very faint sweetness, and it's this neutrality that makes it a good partner for Cherry Bomb! The neutral flavour profile really elevates Cherry Bomb's sweet, cherry flavour. For those with a keen palette, you may pick up on Cherry Bomb's slight vanilla aftertaste, again, a great complement with the sugar and coconut used to make Love Letters.
Combo #4: Almond Cookies & Give Me S'mores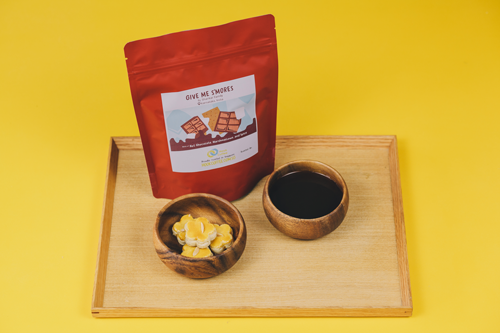 Give Me S'mores, with its bittersweet, chocolatey notes, really complements the cookies, which are pretty dense and dry. The buttery nature of the cookie really brings out the caramelised, almost spicy flavour of smores. Relative to a "heavier" snack, like the Kueh Bangkit, Almond Cookies aren't as dry and powdery, which leaves a space for the heavier mouthfeel of Give Me S'mores to fill!
Combo #5: Mandarin Oranges & Hands Off My Nuts!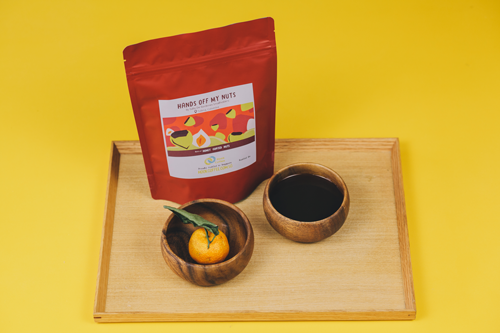 This combination is a personal favourite. If you're all about avoiding flavours that weigh your palette down, this one's for you! Hands Off, a Colombian coffee, goes well with the slightly sour and sweet profile of the oranges. The oranges are juicy, and likewise, the coffee has a really light mouthfeel, pretty much comparable to that of drinking fruit juice. This duo works great as a palette-cleanser, and is definitely not as heavy compared to all the other snacks we've paired here, so snack away if you will! Another fascinating thing about Hands Off has to do with its acidity – when paired with something citrusy, your palette is essentially primed to accept the coffee's refreshing acidity!
Pairing these classics with our coffees was a really fun exercise for us! We probably do not give much thought about how flavour profiles interact on a day-to-day basis, but it's how we miss out on nuances that could possibly enhance the experience of consuming food and drink.

That being said, these pairings aren't game-changing – some of you may give this a shot with varied results and that's okay! If anything, it's all about having fun with the food and drink you've got on hand, especially with what seems like an unlikely crossover.

Get Hooked!