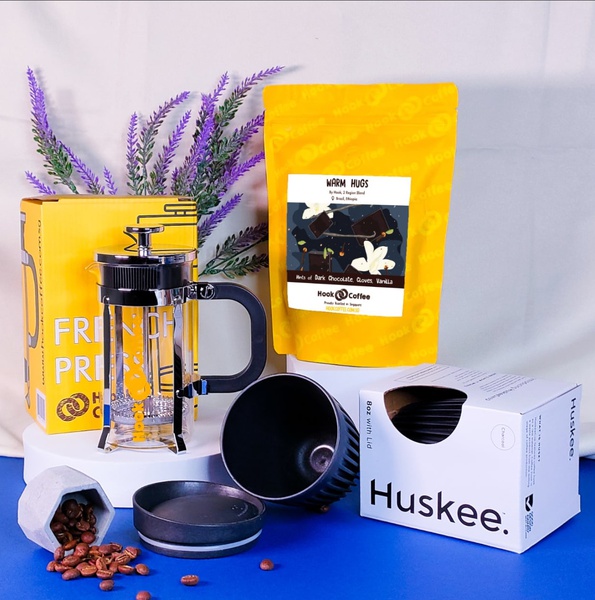 Father's Day French Press Bundle
S$ 80.00
93.00
+160 beanie points
Debuting our very first dark roasted coffee, "Warm Hugs", this bundle is perfect for dads who might fancy a fuller cup of coffee with added oomph.
The French Press, or what dad might know as the coffee plunger, is perfect for the lazy mornings requiring fuss-free brews. Fitted with a metal sieve to filter the coffee grounds without absorbing its natural oils, you can enjoy an intense cup of coffee almost effortlessly with the French Press. 
Enjoy your conversations and coffee in matching 8 oz HuskeeCups, made from coffee husk produced at the milling stage of coffee production, these sustainable and reusable cups keep your coffee nice and warm.  
Choose between Charcoal or Natural, and let us know if you prefer whole beans or grounds! 
More about the coffee:
"Warm Hugs", our very first dark roasted coffee that was specially created just for this occasion. This blend consists of beans from Brazil and Ethiopia, and is roasted dark, which means that the beans are developed for longer and to a higher temperature, resulting in a cup that is low in acidity, rich in mouthfeel, and making a cup as strong as dad! 
Bundle comes with 
1 X French Press
1 X 200g Warm Hugs 
2 X HuskeeCups in 8oz
1 X Hand Written Gift Note
Other gears you might be interested in