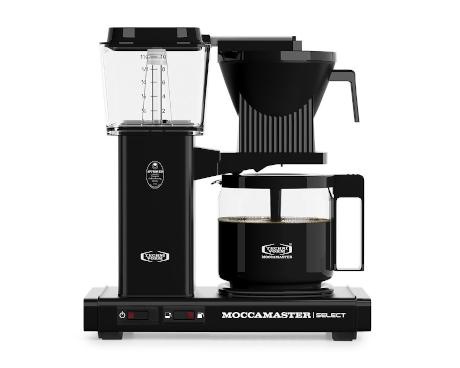 Technivorm Moccamaster KBG Select
Please email us if you are looking to purchase other colors that are not stated here.
This model is based on the iconic Moccamaster KBG. The biggest difference between the regular KBG and the KBG Select is the switch on the front. With the help of this new selector switch, it is possible to easily optimize the brewing time for a full or half jug. The throughput speed and extraction time will be extended when the half jug mode is chosen. The result is an aromatic cup of coffee with a full taste, regardless of the smaller quantity. If the full jug mode is selected, the flow speed is equal to the regular KBG model. The Moccamaster KBG Select is ECBC certified for both 10 and 6 cups of coffee, making it the best coffee machine for both small and large quantities.
Next to the switch, the outlet pipe has been renewed as well. It now has 9 holes that really trigger the water drips to the wall over the coffee grounds in the filter for even better extraction of the coffee.
Features
Use Filter Paper 4 (or Large Clever Dripper Filter Paper)
Auto shut-off feature
Automatic drip-stop
Dual heating elements
Scale indicator
Dimensions W-D-H (mm): 325 x 170 x 355
Automatically switches off power to the boiling element when the water reservoir is empty
Automatically switches off hotplate after 40 minutes
Mixing lid for a homogenous brew 9 hole spray head for efficient wetting of the coffee grounds
Two temperature settings for a warming plate
All Moccamaster filter Coffeemakers are handmade in the Netherlands and have a limited 5-year warranty.