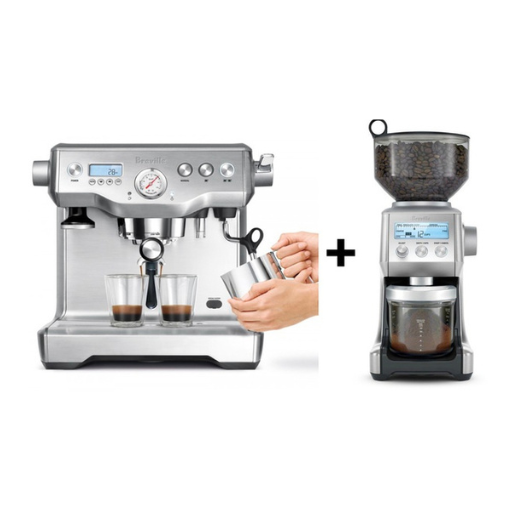 Breville Dual Boiler & Smart Grinder Pro Bundle
No longer must you rely on machines that cost as much as a car. Consistent espresso is more than just possible with this machine. The Breville Dual Boiler gives the user an espresso experience like no other. Instead of constantly tampering with settings, buttons, and levers, the Breville allows you to customize just about everything from pre-infusion to shot volume and clean cycle. The dual boiler design keeps hot water at the ready. Easily adjust brew parameters and sit back. Your liquid gold in cup has arrived.
Perfectly paired with the Breville SMART grinder pro, the Breville's smart grinder thinks for you. The precision digital timer gives you the option of changing grind size on the fly, letting you choose from 60 different programmable grind settings as you please. The conical burrs grind the coffee evenly, allowing for an extremely impressive particle size distribution of coffee grounds. The Smartgrinder lets you take the reins to adapt to any situation quickly. Dialing in your brew should no longer be a problem.