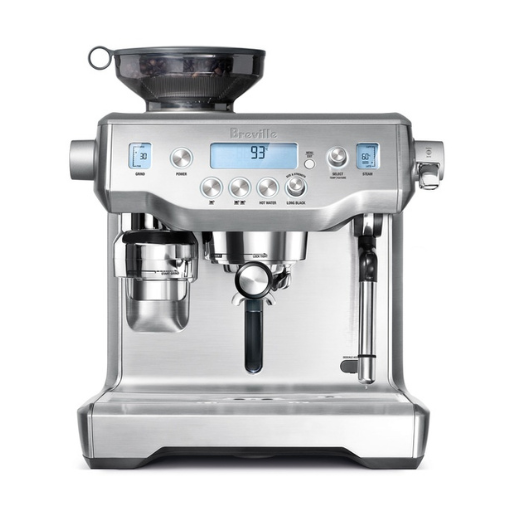 Breville Oracle BES980
Breville's Oracle espresso machine is an automated wonder. The Oracle offers hands free dosing, tamping, and even milk texturing. With allocated engineering like the dedicated steam boilers and patented heat system, the Oracle will never run out of juice. With a competent and a powerful automated setup like this, espresso can be a part of the daily routine.
Features:
Auto & Mess Free - The integrated conical burr grinder automatically grinds, doses and tamps22 grams for a double shot, similar to the commercial machine in your favorite café.
Precise Espresso Extraction - Dual stainless steel boilers and heated group head, both regulated by our digital temperature control (PID) automatically delivers the water at precisely the right temperature, extracting maximum flavor potential. The Oracle™ also features an Over Pressure Valve (OPV). This commercial feature limits the maximum pressure throughout the extraction, helping prevent bitter flavors in the shot. It also has true low pressure pre-infusion, which gradually increases the pressure to gently expand the grinds for an even extraction.
Micro-foam Milk - The automatic steam wand textures milk to your preferred taste and temperature, from silky smooth latte (less texture) to creamy cappuccino (more texture). Powered by a dedicated boiler, the auto steam wand delivers barista quality micro-foam that enhances the flavor of the coffee and is essential for creating latte art.
One Touch Americano - the innovative One Touch Americano feature delivers a double espresso, and then separately through a dedicated spout, fills the cup with hot water, the same way as any good commercial machine.