Wine & Pine
Gula Melaka, Pineapples and Red Wine
---
*Save up to 20% when you subscribe!
Introducing this divinely, irresistible coffee, that tastes like a holiday in a cup! It boasts heartwarming and vibrant flavors of juicy pineapples, complimented with sweet Gula Melaka, and finished off with a rich winey mouthfeel.  Take a sip, and close your eyes — You might start to think you are on a vineyard vacation!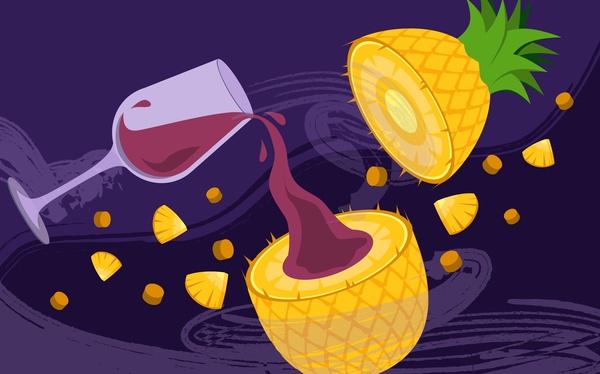 Product Information
Country
Sumatra, Indonesia
Producer
Gunung Tujuh Farmers
Product Description
Introducing another spectacular Sumatran coffee; Wine & Pine! We are roasting this coffee to a Light-Medium roast, best enjoyed with any filter brews (or an adventurous espresso).
This coffee hails from Gunung Tujuh, from the Kerinci area of Sumatra, Indonesia. Packing a punch, it showcases the variety of flavours and continuous evolution of quality for Indonesian coffee in recent times. Typical tasting notes of for Sumatran coffee would be Earthiness, Spice, Cocoa, with a Heavy Body. On the other hand, some drinkers find Sumatran coffee to be too harsh for their liking. We're finding the opposite here; our initial cupping sessions has yielded very promising results.
You can expect a lush sweet aroma that will remind you of tropical fruits, predominantly pineapples. With your first sip, you will enjoy a rich mouthfeel that is paired with flavours of wine - think slight tannins, sweetness, and a hint of tartness. As you finish, the coffee opens up further; its sweetness lingering with afternotes of slight spice, reminding us of Gula Melaka.
Kerinci is considered a relatively new & developing coffee region of Sumatra. There's much potential to be found, with an increasing focus on quality across farmers and producers. Coffee farms in Sumatra are usually small scale, with sizes ranging from 0.5 to 2.5 hectares. As you can expect, Sumatra is in no shortage of volcanoes, with Gunung Kerinci and Gunung Tujuh positioned nearby the farms of this coffee. This is beneficial to coffee, as volacnic soil provides an incredible amount of nutrition for the plant to nurture and thrive.
As a natural process, this lot sees it swaying away from the norm; Giling Basah. There's a lot more care and attention being paid in the harvest and processing, resulting in a prominant cup profile with fruitness, complexity, and cleanliness.